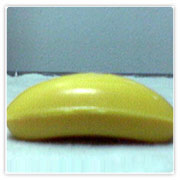 Due to the increasing awareness towards health and hygiene, toilet soaps have now become a necessity for people in modern life. Urbanization and developments in the industry has led to the increase in demand as well as improvement in quality of products. With the advent of new technologies and sophisticated manufacturing practices, the development processes have improved and as a result of which, the markets are flooded with a variety of soaps that vary in both the physical as well as functional attributes. The toilet soaps can be broadly categorized into several types of soaps, such as -
These different types of toilet soaps are designed and manufactured on the basis of several factors, such as weather conditions, skin type, lifestyle and preferences of people. Good quality toilet soap can greatly affect how your skin looks and feel while improving its overall condition.
While some soaps are designed for beauty, some for removing odor
Sizes
Toilet soaps come in several sizes for different purposes and requirements, such as -
Small toilet soaps - Small toilet soaps generally come in weight of 10 gm to 30 gm and are specially designed for hotel industries and travel requirements.
Normal toilet bath bar soap - The normal toilet bath bar soap come in weight of 75 gm to 100 gm that are usually developed for mass consumption.
Ingredients
Along with fats and oils, toilet soaps are made using a variety of ingredients, which depends on the type of soap and properties required. Some most common ingredients that are used in making toilet soaps are fats, alkalis, essential oils, fragrances, glycerin, blends, distilled water, cocoa butter, and more. Function and applications of some ingredients, which are used in soapmaking, are -
Pearlizing agents are added to opacify the formula and give it a more pleasing appearance


Fragrances are added to mask the odor of the base and increase consumer appeal


Thickeners are added to increase the viscosity of product


Colorants may also be included to improve the appearance of product


Primary surfactants are added foam and cleansing, while secondary surfactants are added to give the foam more creaminess and improve the skin feel
Buying Tips - Toilet Soap
While buying toilet soap, one of the most important factor that you should keep in your mind is to buy a soap that suits your skin type and your requirements. For example if you have a dry skin condition, then go for a dry skin, for a oily skin, look for a oily skin soap and for a normal skin, buy a normal skin soap. Carefully read the ingredients to make sure that your soap does not contain any harmful chemicals or toxins. Generally the soaps made through cold process technique should be preferred as they retain glycerin, which is a natural byproduct of soapmaking process. Glycerin rich soaps have proved to be good in moisturizing characteristics.