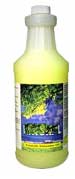 Dishwasher gel is dishwashing detergent that is formulated in gel form. These cleaning gels are formulated to soften even the hardest water and provide effective cleaning of dishes, crockery, glasses, cutlery, and cooking utensils. The dishwasher gels can be used along with rinse additives for automatic dishwasher cleaning. Typically the gels are designed to provide controlled dispensing. Because of their form, they are less likely to be spilled than powders and dissolve rapidly thereby allowing the detergent to start working right away.
Formulated to provide a high-performance alternative to conventional products. The powerful plant based composition softens even the hardest water and ensures effective cleaning of dishes, crockery, glasses, cutlery, and other cooking utensils.
Although most of the existing dishwasher gels contain petrochemicals, like poly carboxylates (based on petroleum and very slow to decompose), TAED, perborate, phosphonates, petrochemical detergents and chlorine bleaching agents, now days there is a drive towards use of ecological alternatives for these ingredients.
Dishwashing cleaning gel cleans dishes to a sparkling shine, rinses clean, and leave the whole kitchen fresh. Because of their form, dishwasher gels and easy to use and clean dishes.
Cleaning Action
Cuts through grease and dried on food
Removes tough stains
Does not etch metal and silver
Great for pre-soaking baked on foods
Gentle enough for washing china, porcelain, silver
Ingredients
Some most common ingredients that are used in making dishwasher gels are - water, sodium silicate (from salt & limestone), polymerized amino acid, borax (boric acid), sodium gluconate (salt from glucose), alkoxylated alcohol (coco derived), sodium citrate (salt of citric acid) and xantham gum (vegetable derived gum).
Some manufacturers offer natural environment friendly dish cleaning gels and use nontoxic polymer system for cleaning and other natural ingredients. The ingredients in these type of gels include alyoxylated linear alcohol, a biodegradable low sudsing surfactant, water softeners to provide alkalinity for enhanced performance (soda ash and sodium citrate), dishwasher and china protection agent. Cellulose based stabilizer and thickening agents, preservative fragrances are also used in some types of dishwashing gels.
Common Uses
Formulated to provide effective cleaning as well as convenience, dishwasher gels have found uses in a variety of applications that include -
Uses in automatic dish washing machines
Excellent for pre-soaking baked on foods
Gentle enough to wash china, porcelain, silver
Can be used in all temperatures
Directions for Use
Fill all the dishwasher cups completely
Close cap tightly after each use
Load dishes properly
Soiled surfaces should face spray
Rinse agents can be used for effective cleaning
Buying Tips
While buying dishwasher gel, a buyer should look for non-toxic, phosphate and chlorine bleach free dishwashing gel. Carefully read the ingredients to ensure that the gel does not contain any dyes, NTA or EDTA. Biodegradable ingredients have found to be good for health and environment while offering superior cleaning results. The detergent gels with pH between 4-5 have found to be gentle for skin and good for people with allergies and skin problems.