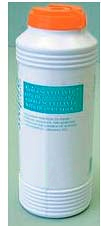 Dishwasher powders are dish-cleaning detergents formulated in powder form. These powders are designed with a formulation to reduce spotting and filming in water and are granulated to make them free flowing thereby making them easy to use. Modern dish cleaning powders have a compounded formulation with a unique functional surfactant and a softening agent. These components are used as a substitute for the traditionally used sodium alkylbenzene sulfonate, which is harmful for the environment.
Traditionally the dishwasher powders were made using chlorine bleaches, dyes, phosphates and other chemicals, but for some years now, there is a drive towards use of natural and environment friendly substitutes of these products. The dishwashing powders clean dishes sparkling clean yet are very gentle and easy to use. Some dishwasher powders are specially formulated to provide superior cleaning with special care for certain dishes and cutlery items, like china. Important benefits of dishwasher powders include -
Ensures streak-free results and rapid drying.
Suitable for hand wash as well as for use with all types of automatic dishwashers
Ingredients
Some most common ingredients that are used in manufacturing dishwashing powders are Sodium bicarbonate, sodium disilicate, sodium carbonate, sodium sulfate (pH neutral salt), sodium citrate, polypeptides, enzymes (non-genetically engineered); sugar surfactant, sugar based bleach activator, Alkyloxylated fatty alcohol, sugar derivatives and fragrances.
Cleaning Action
Removes dried on food and tough stains
Do not leave any chemical residues on dishes
Leave your dishes sparkling clean
Instructions for Use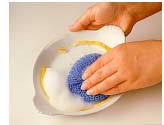 To wash a machine load of normally dirty dishes, fill the main cup
In hard water areas, it is recommended to fill the open cups as well
Carefully follow the instructions of machine manufacturer
Some items like hand painted china, wood or bone-handled items and all silver are not suitable for machine washing and are advised for hand washing.
For Effective Cleaning
Use rinse aids for use in very hard water
Look for dishwasher detergent powders with pH between 4-5
Buying Tips
Different types of dishwashing detergents are available in the industry that can be chosen as per the choice and application need. Carefully read the ingredients and try to make sure that the detergent does not contain any petroleum-based cleansers.