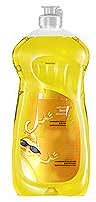 Dishwasher liquids are detergents that are used to assist in hand washing as well as machine washing of glasses, plates, cutlery and cooking utensils. These detergent products are usually a high-foaming mixture of surfactants with low skin irritation.
Regardless of brand, few characteristics and features are vital in a hand dishwashing liquid that include - lasting suds, mildness to hands, superior cleaning performance, safety for dishes and other washables, storage stability, pleasing appearance and fragrance, convenient packaging as well as dispensing. In formulating and designing a dishwashing liquid to meet this criterion, manufacturers typically use certain basic ingredients.
Did you know...
that liquid dishwasher detergents are very versatile cleaners?

Typically, the specialized cleaners are the ideal choice for certain specific jobs. However if you can't find any suitable specialty cleaner then in that case, a liquid dish cleaner is a good choice for a variety of households cleaning jobs. So remember, even though the liquid dish detergent is an ideal cleaner for dishes, it is can also be used as a good backup for various other cleaners.
In some cases, dishwashing liquid has also found to be useful for treating birds affected by oil spills. Some dishwashing liquids are also used in the case when a diesel fuel is spilled into water. When the dish cleaning liquid is poured onto it, it dissolves the spilled diesel and disposes it in a safe manner. Most people rinse the soap off from the dishes after cleaning them, however few leave the soap to dry on the dishes. Dishwashing liquid is often used in combination with water when blowing soap bubbles.
Directions for Use
Hand Wash
Dispense the detergent into the wash basin and start filling the basin with mild hot water. Half a teaspoon of detergent (about one brief squeeze) is adequate to begin with. Swish the water around to work up some suds and then start washing the dishes. It is most economical to use little amount of detergent and then add more detergent if the suds have almost gone.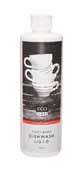 Machine Wash
Load dishes properly

Do not block spray to top rack
Soiled surfaces should face spray



Full all cups fully and use hot water with every load


For sterling silverware care

Separate sterling silver from stainless steel
Avoid spilling directly on silver items as it may cause spots



Use extra detergent for very hard water
Buying Tips
While buying a liquid dishwasher detergent, the selection of a particular brand and type depends on the application and choice of an individual. People with extra-sensitive skin and other allergies should prefer detergent free from synthetic petrochemicals and with mild pH as they gentle on skin and hands. Petrochemicals free from synthetic petrochemicals are also good for environment and the waterways. Carefully read the ingredients and prefer those that are phosphate-free and do not contain bleach.