Soap cutting machine is the equipment used in
soap manufacturing process
to cut soap bars into desired lengths, sizes and forms. In these machines, soap cutters are usually placed downstream from a plodding machine and the soap bars that come from the plodder enter the cutter and come into contact with an incremental encoder, which sends a signal to the cutting system. For details, read
bar soap manufacturing process
The cutting system provides a horizontal and vertical blade shift, to cut bars into the specified lengths and sizes. The soap cutting machines are designed and manufactured with two conveyors for separate cutting unit, which are used to feed the soap bars into the cutter and then carry them out of the cutter.
Types of Soap Cutting Machines
Soap cutting machines are only one category of
soap manufacturing machines
. However, they too are available in many varieties nowadays. The available soap cutting machines can be categorized as -
Air powered soap cutter
Manual soap cutter
Loaf soap cutter
Double cutting machine
Bar size-cutting machines
Rotary soap cutting machine
A brief description of these different types of soap cutting machines is given below
Air Powered Soap Cutter
These
soap making machines
are ideal for cold processed soap cutting, the Air Powered Soap Cutters can be used to produce thousands of perfect bars a day by a single person.
Salient Features of Air Powered Soap Cutter
High production
Can be custom designed to meet user specifications, bar and batch size
Cuts both loaves and bars with a single piece of equipment
Can be used to cut hundreds of perfect bars in just minutes
Designed with 2 cutting grids and 2 cutting tables (Loaf and Bar)
Manual Soap Cutter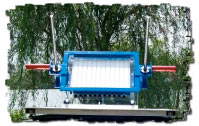 Manual soap cutters are designed to cut large blocks of soap within minutes manually. The manual soap cutters come with the option of Extra cutting frame and tables for different full size bars or hotel size bars, extra wire ( include both sizes, for bar and loaf frames) and manual cutter easy hoist system. These cutters can be custom designed to meet the unique specifications, bar and mold size.
Salient Features of Manual Soap Cutter
Cuts both loafs and bars with one piece of equipment
Compact in size, durable and easy to clean
Easy to operate
Cutting frames and tables are easily and quickly interchanged
Manual Cutter Easy Hoist System
Loaf Soap Cutter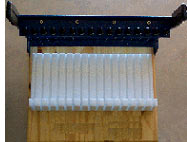 A loaf soap cutter is used to cut the soap loaves into bars quickly and easily with its in built cutter. Based on latest technology, the loaf soap cutters come with a heavy duty base and cutting table, wood and HDPE plastic and are provided with a extra replacement wire.
Salient Features Loaf Soap Cutter
Metal parts coated with hard, baked on powder-coat enamel
Easy to use, operate and maintain
Come with a variety of specifications and can be custom designed to meet user specific specifications
Rotary Soap Cutting Machine
Rotary soap cutting machines are used to cut the bar soaps at fixed lengths. These machines are mounted at the mouth of
plodder
and operate without power. A rotary soap cutting machine is driven by the forced travel of the extruded bar from the plodder. The machine has two stainless steel guide rings that are mounted with suitable cutting knives to cut the soap bar into specified lengths and the speed and output can be synchronized with the plodder discharge capacity. The gap between the two cutting wheels can be adjusted according to the need or thickness of the soap.
Also know about
Rotary Sealing Machine
, used in soap packaging applications.
Bar Size Cutting Machine

Bar size-cutting machines are used to cut soap slabs into bars and bars into cakes. The machine can be used easily prepare soap bars into desired shapes and dimensions. The machine is fitted with cutting frames that can be easily detached and have steel spring wires.
Double Cutting Machine
Double cutting machine is a hand operated equipment that can be used to cut slabs into bars and bars into
detergent cakes
. When the slabs are cut into bars, there is no need to handle or touch the bars for cutting the cakes but only to move the handle and the cakes will cut according to the specific size or as per the adjustment made in the frame size. These are fitted with cutting frames that are detachable and the frame is with steel spring wires.
Know more about
Detergent Cake Making Plant
.