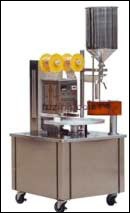 Rotary sealing machines are used for packaging applications in different industries and products. The machine can be used for sealing different types of drinks, syrups, milk and soymilk and many plastic cups.
The latest technology rotary sealing machines can be used to deliver big production output in a small package. These machines are designed with a 2-station rotating spindle to carry the containers into sealing position at rates at up to 25 cycles per minute, delivering an output of 1500 pieces per hour in a single head configuration. For small size containers, a dual head tooling can be designed so that with each machine cycle two containers can be sealed thereby offering double the output.
Advance rotary sealing machines can accommodate variety of standard tray sizes over a comprehensive range of depths. Easy to operate, the machine can seal trays with multiple compartments and can even seal the dividers between compartments. Some machines are also equipped with Quick-Swap tooling system that enables the user to switch containers in about 3-4 minutes. These machines are ideal for medium to high production runs of entrees for meals-on-wheels, retail and home meal replacement.
Design
Generally made from stainless steel, the automatic rotary sealing machines are designed for facility for liquid filling, cutting, sealing, auto temperature control, scrape collection, date printing and ultraviolet dis-infection for different types of plastic bottles and plastic vessels.
The sophisticated microcomputer-based technology provides for complete flexibility while making the machine user friendly. Parts, which are required to be cleaned or replaced, are designed so as to ensure easy access and removal with spring clamps or butterfly nuts. The different removable parts ensure quick repair and maintenance.
Applications
Automatic Rotary Sealing Machines have found usage for sealing plastic inserts/plugs of LDPE, HDPE, PP etc. on to bottles of the similar material. The machine is ideal for to handle bottles of various shapes and sizes and provides perfect solution for leak proof /pilfer proof packing of Edible Oils, Petroleum products, Adhesives, detergents and a variety of products in bottles. The machine has found usage in food, detergent, drinks, brewing, medicine and other industrial applications.
Salient Features
Robust and durable construction
Produces large production output in little package
Easy to operate
Requires minimum maintenance