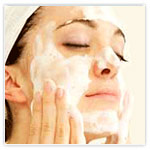 Cleansing creams are modern day faces cleaning products that are used by people to clean the face of make-up and the dust before going to bed. The layers of make-up, dust and sweat remain as a layer on the face and prevent the skin from breathing this may eventually lead to wrinkles and dullness. With their mild and effective action, cleansing creams now days have become a beneficial approach to healthy skin care.
How it works
Regular use of a cleansing cream makes the skin soft, glowing, fresh and young. Some of the important features of a cleansing cream, include -
Deep cleansing
Lifts make-up and impurities gently and effectively
Maintains and supports the normal moisture level of skin
Soothes and leaves skin soft and supple
Maintains the pH balance thereby protects your skin from broken down
Ingredients
These creams are made with a mixture of stearic acid, mineral oil, lanolin, teropenol, tri-ethanolamine, propylene, glycol and perfume. Some of the most common ingredients that are used in making cleansing creams are -
| | | |
| --- | --- | --- |
| Water (Aqua) | Sweet Almond (Prunis Dulcis) Meal | Anthyllis Vulneraria Extract |
| Calendula Officinalis Extract | Alcohol, Peanut (Arachis Hypogaea) Oil | Wheat (Triticum Vulgare) Germ Oil |
| Matricaria (Chamomilla Recutita) Extract | Hypericum Perforatum Extract | Witch Hazel (Hamamelis Virginiana) Extract |
| Sweet Almond (Prunus Dulcis) Oil | Fragrance (Parfum) | Citronellol |
| Geraniol | Acerola (Malpighia Punicifolia) Extract | Xanthan Gum |
Usage Tips
Most of the cleansing creams have grains of nut in it but they are not exfoliants, and hence you should not scrub with the product. Scrubbing causes the skin cells to tear off from the skin, which may not yet be ready to come off, thereby causing adverse reactions and sensitivity. With its effective cleansing action, the cleansing cream boosts the skin cells to slough off in a more effective manner, which makes it look glowing and healthy without needing to rub.
These creams should be used with plenty of warm water to ensure that it is properly rinsed off. Care should be taken while using the cream around the eyes. If you are having thick makeup around your eyes, then you must use a little cleansing milk on damp cotton wool to first remove it. We can use a plain cotton fabric for cleansing your face. Using a cotton fabric relaxes the skin and softens the walls of the pores allowing, which helps deep cleansing and stimulate the skins' own functions. By using a clean cotton fabric every time you wash your face, you can prevent the occurring of cross infection. Some general usage instructions can be defined as -
Use in morning and (or) evening


Mix cleansing cream to a smooth paste by adding water and apply thinly to warm, damp skin.


Work in gently using a pressing, rolling motion


Rinse off with warm water and finish with a clean cotton fabric
Buying Tips - Cleansing Cream
While buying a cleansing cream, it is important that you carefully read its ingredient list. Try to look for products that are made of natural herbs and oils as they don't have any side effects and make the skin look healthy and glowing. Cheap commercial creams should be avoided. Also try to buy a cleansing creams that suits your particular skin type and age.