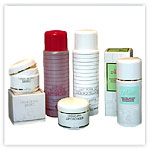 Cleansing milks are a unique combination of natural herbs and ingredients that are used to clean and refresh skin. These skin cleansing products penetrate deep into the skin and gently remove dirt, grime and make-up. Enriched with cucumber, to provide cooling and soothing effect and soapnut to remove excess oil, cleansing milks leave the skin healthy, clean and glowing.
Cleansing milks are based on a soap-free formula and are blended with certified organic antioxidant-rich red raspberry and white grape juices with soothing aloe vera. Quality cleansing milks also contain nutrient-rich grapeseed oil and vitamins that help in gentle cleaning and provide comfort for a dewy, moist complexion.
Benefits of Cleansing Milk
With its effective cleansing action, cleansing milk leaves the skin fresh and perfectly cleansed. These creams contain sodium hyaluronate associated with cucumber extract and Vitamin E and regulate the lipo-hydric balance of skin and delays the natural aging of the skin. Some of the important benefits of cleansing milk include -
Cleans and gently removes make-up and impurities. Enhances the suppleness and elasticity of skin


Moisturizes and neutralizes the drying effects of hard water


Function as effective night cleanser and help strengthen and invigorate the skin


Support and encourages the skin's ability to take care of itself by addressing the skin care problems rather than dealing with symptoms


Maintains the pH of the skin within normal limits


Regulates the lipo-hydric balance of the skin


Leaves a clear and pure complexion


Prevents the premature aging and delays the natural aging of skin
How it works?
Cleansing milks are generally based on dermatologically tested fine emulsion, which makes it an effecting cleanser for gentle cleaning, moisturizing and protection of skin from dirt and environmental pollutants. Cleansing milk acts deeply to remove the excess sebum, makeup and grime to open the pores. The milk functions like a very mild abrasive mask against dead cells and restore the water balance and pH by nourishing and protecting the skin.
Ingredients:
Cleansing milks are generally formulated using natural ingredients and herbal extracts to clean and refresh skin. A complete list of the different ingredients that can be used to make cleansing milks is given below -
Organic juices of vitis vinifera (white grape) juice, rubus idaeus (red raspberry) juice & aloe barbadensis leaf juice, organic botanical extracts of calendula officinalis flower, matricaria chamomilla flower & tilia europea (linden) leaf, glycerin, organic plant oils of carthamus tinctorius (safflower) seed, prunus amygdalus dulcis (sweet almond), helianthus annuus (sunflower) & sesamum indicum (sesame), vitis vinifera (grape) seed oil, caprylic/capric triglyceride, cetearyl alcohol, cetearyl glucoside, tocopheryl acetate & tocopherol (vitamin E), sorbitan stearate, retinyl palmitate (vitamin A), phospholipids, ascorbyl palmitate (vitamin C), tetrasodium edta, panthenol (vitamin B5), allantoin, phenoxyethanol, xanthan gum, benzyl alcohol, potassium sorbate, citric acid, citrus aurantium (sweet orange & orange blossom), anthemis nobilis (chamomile) & boswellia carterii (frankincense) pure essential oils.
Usage Instructions
To get maximum benefit from your cleansing milk, use it every morning and evening by massaging into damp skin of your face and neck with a circular motion. Leave it for a 2 minutes, and then wipe off with a moist cotton pad. Rinse properly with water. The application of cleansing milk can be followed by a skin toner if required.
Buying Tips - Cleansing Milk
While buying a cleansing milk, it is important to know your skin type, so that you can purchase a cleansing milk specifically meant for your skin type. Generally a cleansing milk suits all skin types well, however now days, different types of cleansing milks are available in market, which can be purchased to get maximum benefit.
Another important thing while buying cleansing milk is to carefully read the ingredients. Prefer products that are made using natural ingredients and herbal extracts. Avoid buying cleansing milk that has been formulated using harsh chemicals.