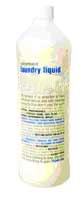 Laundry liquids are powerful laundry cleaning products that are applied to stubborn stains prior to washing. These liquids are formulated using a specified surfactant system of naturally derived alkyl or hydroxyalkyl sulphate or sulphonate surfactant and mid-chain branched amine oxide surfactants.
Laundry liquids are formulated using ingredients, which give better washing performance with benefits to environment. With technological advancements laundry liquid manufacturers now use a new ingredients - rapeseed oil (non-GMO) that offer benefit with its low foaming properties. Foam is detrimental to the washing process and may result in up to 50% loss of the washing power.
Ingredients
The most common ingredients that are used in making laundry liquids are - Water, Ethoxylated Rapeseed Methyl Esters, Potassium Soap of coco and olein fatty acids, Sodium Citrate, Ethanol Alkyl Poly Glycoside C10-16, Fatty Alcohol Sulfate C10-16, Citric Acid, Perfume, Linalool, Limonene and Citronellol.
Application
Laundry liquid is formulated for pre-spraying of stubborn stains on garments. It help in removing even the toughest stains and give exceptional cleaning results.
Benefits
Some of the benefits of using a laundry liquid are -
Exceptional washing results, even at low temperatures
No optical brighteners
Suitable for all white and colour fast laundry
Fresh perfume from plant based ingredients also available as refill