Detergent mixing machines are equipment's that are used to mix the different raw materials and ingredients properly. These mixing machines can be used to manufacture detergent powder as well as detergent cakes. Available in a variety of designs and specifications, these machines generally come in mild steel and stainless steel construction.
Detergent mixing is the first stage in the process of detergent manufacturing after which the mixed ingredients enter the screening machine for screening. Finally the screened materials get packed by packaging machine.
Types
There are generally two types of detergent mixing machines -
Detergent powder mixer machine
Detergent cake mixer machine
Detergent Powder Mixing Machine
Detergent powder mixing machines are used in detergent industries for manufacturing free flowing detergent powders. Based on latest technology, the advanced detergent powder mixing machines incorporate main drive system, and inclined mixer arms that make the mixer more efficient, low power consuming, and time & labor saving. A variety of detergent powder mixing machines are available in the industry that vary in their dimensional specifications and characteristics, such as - construction, PAN diameter, batch capacity and power rating.
Detergent Cake Mixing Machine
Detergent cake mixer machines are used in detergent cake industries for mixing various raw materials and producing the detergent cake material. The detergent cake mixing machines generally come in mild steel and stainless steel construction and can be used to produce detergent cakes in specific sizes and dimensions. These machines come in varying specifications of construction, gear size, motor power and batch capacity.
Salient Features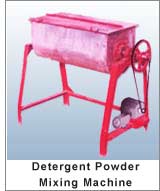 Some of the salient features of detergent mixing machines include -
Deliver superior performance with latest technology main drive system
Specially designed inclined mixer arms make the mixer more efficient
Easy to use and maintain
Lower power consumption
Saves time, money and labor
Other Detergent Mixing Machines
Besides detergent powder and detergent cake manufacturing machines, a variety of other mixing machines are available that are used in detergent manufacturing for some specific requirements and applications. A brief description of two such machines, viz. - paddle mixer and double cone blender is given below
Paddle Mixer

Paddle mixer machine is a high speed mixing equipment, which is used to mix different raw materials and ingredients in various manufacturing applications and requirements. Some of the uses of a paddle mixer, include - applications in manufacturing of spices, coffee, detergents, sugar, chemicals, vegetables, cements, instant foods and more.
Salient features of a paddle mixer include high speed mixing, wide open door for feeding and double door opener for discharge.
Double Cone Blender

Double cone blender is a mixing equipment, which has found uses in mixing and blending of granules, powders, spices, detergents, pharmaceuticals, chemicals, tooth powder, and more. These machines come in a variety of specifications and characteristics and can be selected as per the requirement.