Detergent cake making plant is a set of machines that are used to perform different operations required in making detergent cakes.
The different machines used in a detergent cake making plant include -

Sigma Mixer
Triple Roll Mill
Belt Conveyor
Simplex Plodder
Rotary Cutter
Size Cutter Cum Embosser
Plodder Machine
Sigma Mixer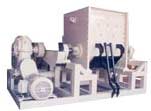 The trough of the mixer is made of stainless steel having a pair of stainless steel cast Z shaped blades for maximum efficiency of mixing and uniformity of all ingredients. The material after mixing is discharged by manually operated bottom discharge mechanism.
The shaft on which the blades are mounted is supported by heavy-duty spherical roller bearings. The spur gears are of EN 8 casting. The drive comprises of AC electric motor with reduction gear unit mounted on the robust mild steel frame.
Triple Roll Mill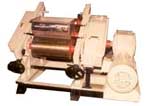 Triple roll mill having slant construction is fitted with finely ground and polished hollow chilled cast iron rolls. Housing with heavy duty self-aligning double row spherical roller bearings on shaft journals supports the rolls. The drive to the rolls is through machine cut helical gears of EN 8. An adjustable serrated scrapper made of spring steel with arrangement of tightening and loosening the same is mounted against the top roll. The machine has provision to rotate rolls at different speed and also has provision for setting clearance between the two rolls by means of hand wheel and screw. The drive comprises of an AC electric motor and reduction gearbox.
Belt Conveyor

A belt conveyor is used for conveying soap ribbons from the Triple Roll Mill to Plodder. The conveyor has white PVC coated belt with ledges glued at fixed distance to prevent sliding of soap. Special side prevents the spillage from sides. The drive comprises of an AC electric motor and reduction gearbox.
Simplex Plodder

Pressure extrusion plodder for extrusion of soap bar under pressure generated by rotating screw. The barrel is fabricated of 304-quality stainless steel plate. An aluminum silicone alloy worm rotates inside barrel. The barrel is jacketed extensively on the outside for circulation of cold water.
A stainless steel 304 quality cast extrusion cone is provided at the mouth of barrel, which is jacketed for heating and equipped with heater, thermostat and temperature indicator. The drive comprises of an AC electric motor and reduction gear box.
The framework is made of mild steel and is guarded for safety.
Rotary Cutter

Rotary cutter is friction driven to cut soap bar coming out of the plodder into predetermined length so as to be made ready for size cutting and stamping. The cutter has two rotating aluminum wheels with blades mounted on them. The height of the rotary cutter is aligned to the mouth of the plodder but can also be varied.
Size Cutter Cum Embosser

A size cutter cum embosser is used for cutting soap bars into cakes and embossing them, and operated by AC Electric motor coupled to suitable Reduction Gear unit.
Detergent Cake Plodder Machine

Detergent Cake Plodder Machine is used in detergent cake industries for good finishing of detergent cake. Made of M.S. or S. S. Worm Pipe, Screw and M. S. Fabrication stand, these machines also come with fixed & adjustable die.