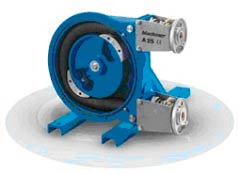 From aggressive to shear-sensitive and viscous materials, the modern day peristaltic hose pumps can be used to handle the toughest applications in the soap and detergents manufacturing processes to handle and control the movement and flow of raw materials.
Peristaltic hose pumps offer tremendous versatility in fluid transfer performance, which may range from the removal of waste steam, to offering an alternative solution to seal less gear pumps while handling highly shear sensitive products.
These pumps also offer superior lift capabilities, excellent discharge pressures and smooth tubing transfer of the material.
Salient Features
Peristaltic hose pumps offer high reliability and performance. Some of the salient features of these pumps include -
Suitable for handling ingredients and raw materials over a wide viscosity range
Eliminates the need for double or tandem shaft seals
Superior abrasive handling
Improve productivity
Low shear rate
Excellent vacuum
Dry run capability
Seal free
Durability